Construction activity falls for first time since immediately after EU referendum following company's liquidation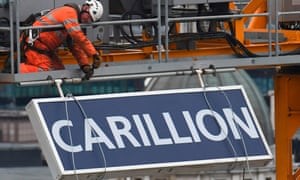 The collapse of Carillion has dragged the British construction industry to the brink of stagnation, as housebuilding activity fell last month for the first time since immediately after the EU referendum.
The slowdown in home construction is likely to embarrass the chancellor, Philip Hammond, after he unveiled tax cuts for first-time buyers and extra support for housebuilding at the budget in November.
The headline reading on the latest Markit/Cips UK construction PMI was 50.2, far below City economists' expectations for activity in the building sector and down from 52.2 in December. While that was just above the 50 mark that separates contraction from expansion in economic output, it leaves the industry teetering on the edge.
The fallout from Carillion's collapse has rattled the building industry in the past month, with its failure threatening to drag down tens of thousands of smaller sub-contractors that relied on it for work. The company had 450 contracts from the government, including for building hospitals in Liverpool and Birmingham.
Max Jones of Lloyds, which is among high street banks offering emergency support to building firms, said: "The impact of Carillion's liquidation has rippled down the supply chain and shaken confidence across the industry."
The rate of job creation in the construction industry eased to an 18-month low in line with the reduced growth of building activity, according to the PMI survey. New orders decreased for the first time in four months, while firms said they faced sharp price pressures from the rising cost of building materials such as bricks, copper and timber.
Despite the gloom over the industry, which accounts for a relatively small proportion of the country's overall economy, there were some positive signals. Commercial building returned to growth for the first time in six months in January, while civil engineers also saw a modest increase in activity.
However, the survey showed hesitance among construction clients to invest in new projects due to rising concerns over the UK economic outlook and uncertainty over Brexit.
Duncan Brock at the Chartered Institute of Procurement & Supply, said: "With construction teetering on the edge of contraction, this surprise outcome will serve as a jolt to policymakers."
Source – https://www.theguardian.com/business/2018/feb/02/house-builders-collapse-leads-to-panic-in-the-building-industry